New App to assist in managing Cancer Emergencies
Posted on
Category:
A great new free app is available now for iOS and Android. It should help improve the safe management of patients with cancer and so is highly recommended.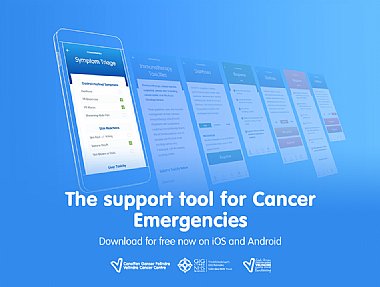 It's free to download now on iOS or Android devices. Search for "Acute Oncology Support".
Velindre Cancer Centre along with cancer specialists across Wales has developed a mobile application to help NHS staff treat cancer emergencies. The App is aimed at exploiting smart phone technology to enable rapid access to acute oncology guidelines and key clinical messages for acute medical & surgical teams, wherever they are based. The App is also aimed at junior staff, to allow universal access to succinct emergency protocols and ultimately improve compliance with critical clinical pathways.
The App is not a diagnostic tool and should not be viewed as something that will inform a clinical decision. The App will present information which the user is already familiar with in an intuitive interface. The mobile App is targeted at junior doctors, senior & community nurses, primary care professionals and busy staff with a multitude of demands on their time. It should be made available at A&E, Acute Admissions Units, Community settings 24 hours a day and NHS staff as a whole.