Trainees Newsletter - February 2016
Monday, 12 September 2016 (Adam Januszewski)
Junior Doctors Contract: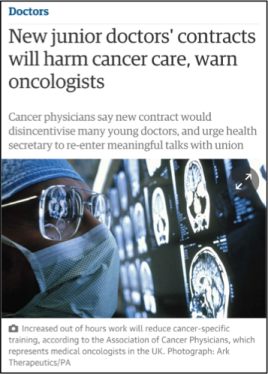 Although not specifically an oncology issue it will clearly affect each and every one of us. The executive have been extremely supportive of its trainees, publishing a statement highlighting the detrimental impact the proposed contract would have on oncology and was signed by over 150 oncology consultants. Thank you to everyone who completed the survey related to the contract – there were 139 responses and the results are here.
The statement together with the results to the survey received widespread media publicity – both in paper and online press (The Guardian, The Mirror, The Metro)
Call for New Trainee Representative:
Hannah Taylor has been an ACP Trainee rep (for England and Wales) for the last 3 years and we would like to thank her for all her hard work and time she has spent with the committee, organising the surveys and trainee weekends. As her term has come to an end we are now looking for a new representative from England (excluding North West and North East) and Wales. Please contact Alison if you would like to stand.
Shape of Training update:
No New Updates. A Curriculum mapping exercise is underway (Last year's updates at end of newsletter).
ACP Strategy Document:
The ACP Executive has published a vision for the speciality in the form of a strategy document. It has now been published online in eCancer and on the ACP Website. It is part of the Association's vision of improving patient services and outcomes while anticipating growth in the speciality.
Chemotherapy Competencies:
Chemotherapy prescribing competencies have now been piloted. The competencies have been circulated to TPDs and you should have access to them. Please ensure that you use these during assessments and reviews with your supervisors. Everyone should have their competencies assessed and the outcomes kept for your records +/- uploaded to your e-Portfolio. These competencies will be uploaded to the e-Portfolio.
Regimen-Specific Consent Form:
Regimen-specific consent forms have been adopted and supported by CRUK. These will be available on the CRUK website in the near future. Consenting procedures will still be subject to local governance.
The ACP Secretariat, meetings and website:
As the speciality and association has grown the executive committee and running of the organisation is evolving. We have now appointed a professional organisation to help with meetings management, membership, subscriptions and will be involved in re-developing the website.
ACP News:
Annual Trainee Weekend: 15th-16th October 2016, Manchester - Details to be confirmed soon
Study Day: Patient Centred and Integrated Cancer Care: Friday 14th October 2016, Manchester
This study day will run the day before our annual trainees weekend (in the same location). It promises to be an excellent event on this important issue with leading experts and panel discussions.
The programme is soon to be finalised and will be advertised soon – keep it free.
Publication of ACP Textbook "Problem Solving in Older Cancer Patients" based on the 2015 ACP study day, now available for purchase from Clinical Publishing.
Speciality Certificate Exam (SCE) 2015 - 61.7% pass rate. 94 candidates
National Medical Oncology Survey 2015/6 - The third bi-annual Medical Oncology trainee survey is still open. With all the surveys happening in recent months we have kept it open to get maximal return. This is a very important survey to get your views. It helps advise policy and guides negotiations. This year there are new questions on Shape of Training. It should take no longer than 10 minutes – If you haven't yet completed it could you please Click Here.
ACP McElwain Prizes for Research - 2016 APPLICATIONS SOON TO OPEN -This is a prestigious prize for two winners. The winners will receive £1000 and will be invited to present at the National Cancer Research Institute (NCRI) Annual Conference and trainees weekend. If you have clinical or translational research that you would like to submit please keep an eye out for the call (to be circulated in the next week).
The Late Medical Effects of Cancer Treatment – Royal College of Physicians Conference – 11th November 2016 – London - The RCP is hosting a conference on the Late Medical Effects of Cancer Treatment. It is an event proposed by the ACP and organised by the RCP. Further details here
DATES FOR YOUR DIARY
| | |
| --- | --- |
| Annual Trainee Weekend | 15th-16th October, Manchester 2016 |
| Patient Centred & Integrated Cancer Care Study Day | 14th October, Manchester 2016 |
| Royal College of Physicians 'Late Medical Effects of Cancer Treatment' - A joint ACP/RCR/Endocrine organised conference | 11th November 2016 |
CONTACT US:
If you have any comments, queries, concerns, questions or indeed information you want to share with other trainees, please don't hesitate to get in touch. Please email Alison Norton.
SHAPE OF TRAINING:
These were updates from last year:
Current implications for Medical Oncology
The proposal is still being finalised and negotiations ongoing between all the medical specialities.
As a speciality, with increasingly complex patients, improved survival and advancing treatments our aim is to continue to expand consultant numbers to address the growing needs of the population. This needs to be supported by a high quality training system that attracts the best trainees.
a.Internal Medicine (ST 4-7) - It is our current understanding that 'acute oncology' with 'selected oncology takes' will fulfil the requirement for internal medicine in this model. Our ongoing contribution and development of acute oncology services means there is a reduction in the burden on the acute unselected take. This is an important workstream that we should continue to develop and a strength of our speciality as a whole. As with the ACP's strategy document, it is envisaged that this evolving field will continue to develop to provide our patients with the best and most appropriate care. In this way we can support our acute-care internal physician colleagues.
b. ?Dual Accreditation in Medical Oncology and Internal Medicine – The ACP does not support a consultant commitment to general medicine. Those reasons outlined above, together with the selected acute oncology take and after discussions with the college it is not anticipated that medical oncology should need to dual accredit.
This model does not propose a shortening to our training, rather an extra year of CMT3 prior to specialisation. Overall the ACP remains in support of the concept of more exposure to general medicine at this level.
This is still a proposal that is yet to be finalised and the scoping exercise is ongoing. Furthermore it requires Health Education England (HEE) and DoH to consider and accept it.