Award Winning Book - Problem Solving in Older Cancer Patients
Posted on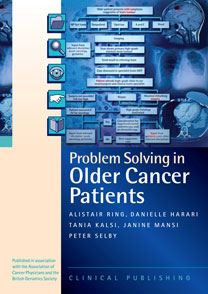 It has just been announced that a new book, Problem Solving in Older Cancer Patients has won first prize in the Oncology section of the BMA Medical Book Awards 2016. Edited by Alastair Ring, Danielle Harari, Tania Kalsi, Janine Mansi and Peter Selby which has been produced by the ACP in collaboration with the British Geriatric Society. The book has been sponsored by the Association using funds generated from previous meetings and a grant from Macmillan Cancer Support.
The purpose of the book is to provide a case-based reference and learning resource for clinicians managing older patients. In two parts, the first section introduces the challenges facing clinical teams seeking to provide the best outcomes for their patients. The second, larger, section of case studies ("Problems") discusses and resolves real-life scenarios of management of 'this patient group. All chapters are multi-authored, drawing on a wide range of clinical experience in the field.
Key features
Structured problem solving approach / over 30 cases are examined
Champions patient-centred care
All chapters compiled by multi-disciplinary teams
Sample pages are available at ProblemSolvingOlderCancerPatients
The book is now available for direct purchase by members of supporting societies. ACP sponsorship enables members to purchase this important book at a reduced price of £25.00, post free in UK (RRP £39.95). ACP members will receive an email with details on how to obtain the discount.
The editors and authors have agreed that profits from the sale of the book will return to ACP and BGS.
Johnathan Joffe MD FCRP
Consultant in Medical Oncology
Chairman of the Association of Cancer Physicians
Peter Selby CBE FMedSci DSc MD FRCR FRCP
Consultant Physician and Professor of Cancer Medicine
President of the Association of Cancer Physicians