REVISION BOOK - 500 SBAs for the SCE
Posted on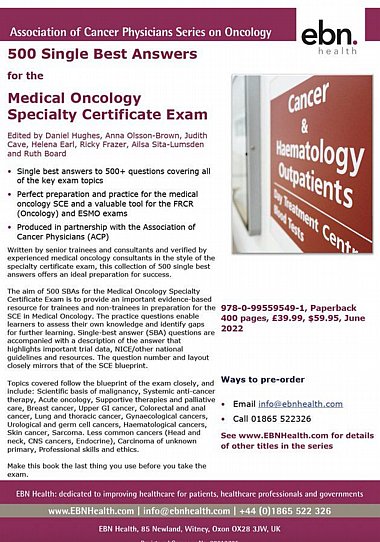 The ACP is delighted to announce the publication of a new evidence-based resource to support trainees preparing for the SCE in Medical Oncology in July 2023. This new book provides 500 Single Best Answer (SBA) practice questions, in a style and format closely aligned to the blueprint of the SCE. Each question is accompanied by a detailed and explanatory answer to aid revision and support further learning.
Now published and available to order. Further details, including the order form, are here.
Publication price is £39.99 (plus P&P) but available to ACP members at the discounted price of £25 (plus P&P), please use discount code ACPQ_A to benefit fro
m discount.