National Regimen-Specific Consent Forms - Publication Updates
Posted on
Category: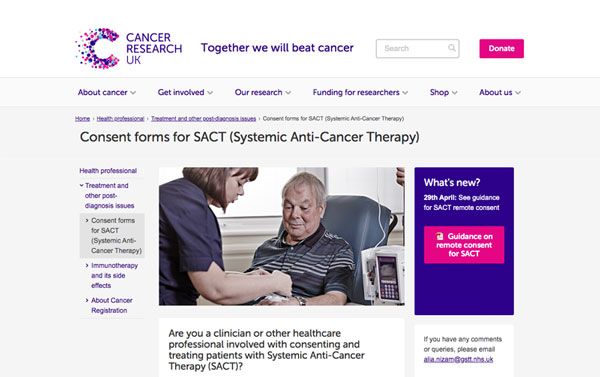 Regimen-specific consent forms for many tumour types have been published on the Cancer Research UK website, more tumour-site and regimen specific and generic forms now released, including, as below:
Breast cancer
Colorectal cancer
Upper Gastrointestinal cancer (OG, HPB and GIST)
Gynaecology cancers
Head & Neck cancers
Lung cancer
Melanoma skin cancer
Thyroid cancer
Urology cancers (bladder and prostate)
Supportive therapies
SACT consent forms are reviewed and updated on a rolling basis. The most recent updates have been to the breast and gynae forms. Many of the new forms contain a combination of drugs so that in most instances only one consent form needs to be completed.
Changes have also been made to the individual regimen specific consent forms, in response to updated information or clinicians request for clarity.
For more detail please see our Resources section.