National Systemic Anti-Cancer Therapy (SACT) consent forms – forms for lung cancer, supportive medicines and colorectal cancer published
Posted on
National Systemic Anti-Cancer Therapy (SACT) consent forms – forms for lung cancer, supportive medicines and colorectal cancer published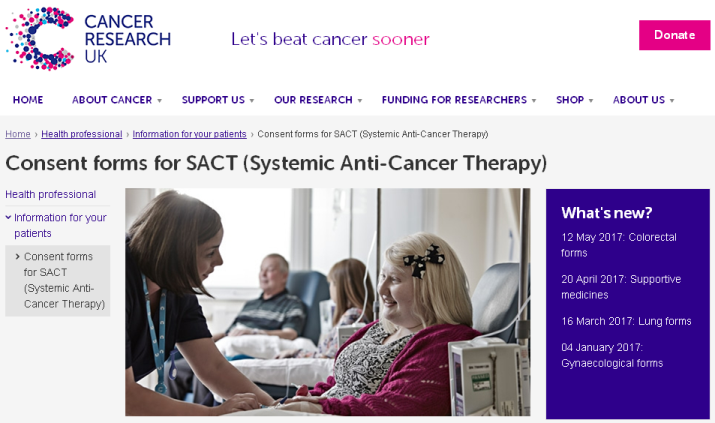 Regimen-specific consent forms for the following tumour groups have been published on the Cancer Research UK website:
Lung cancer – 28 forms
Supportive medicines – 2 forms
Colorectal cancer – 22 forms
Please visit www.cruk.org/sact_consent to view and download the forms. Other forms, national guidance on consent for SACT, and further information is also available via www.cruk.org/sact_consent.
Please do not hesitate to contact Rena Chauhan (Oncology Pharmacist – CRUK information lead, Guy's and St. Thomas' NHS Foundation Trust) if you have any queries: rena.chauhan@gstt.nhs.uk.
Victoria Fashina will be taking over as the lead pharmacist for the project from June 2017 (1 year maternity leave cover). She can be contacted by email (victoria.fashina@gstt.nhs.uk) if you have any queries or feedback in relation to the forms from June.