Trainees
Choose Wisely ... Choose Medical Oncology
Monday 31 October 2016, AJ
Trainees Newsletter - October 2016
Tuesday 11 October 2016 AJ
Junior Doctors Contract
The ACP and its executive remain strongly supportive of its trainees and is opposed to any contract that would dis-incentivise training in medical oncology. The proposed (imposed) contract is likely to adversely affect medical oncology due to its impact on those trainees who take time out of programme or work less than full time. We continue to work collaboratively with the RCR Oncology Registrars Forum to develop strategies to highlight its impact upon oncology. Furthermore we are working on strategies to try and mitigate the impact that any imposed contract will have on medical oncology.
Any suggestions to how the association can continue to support you are welcome – please get in touch.
Recruitment:
LATs have been removed from England. This has a disproportionate impact upon medical oncology as it becomes increasingly difficult to cover trainees going into research.
Round 1 recruitment 2016 –
42 NTNs in R1 2016 (31 in 2015) – Increase in NTNs because of a reduction in LATs
122 applicants (65% unique to medical oncology)
82% fill rate at round 1 (89% in 2015)
Trainee Survey and Rota Gaps
Thank you for completing the survey on rota gaps. This will form part of future campaigns and we will let you know the results of this.
Shape of Training
The proposal is still being finalised. Shape of Training is now an 'evolution' rather than a 'revolution'. It aims to equip the future consultants with the medical skills, knowledge and experience to treat increasingly complex and elderly patients within their field of practice.
Under the current proposal medical oncology will not be part of the acute, unselected take and it will not dual accredit with internal medicine. It will instead contribute through 'selected take' as part of acute oncology services. It is therefore of increasing importance that acute oncology services are effective as this reduces the burden on the acute unselected take.
This model does not propose a shortening to our training, rather an extra year of 'CMT3' prior to specialisation. Overall the ACP remains in support of the concept of more exposure to general medicine at this level.
New Curriculum for 'Internal Medicine' in line with 'Shape of Training':
A new model of assessment – 'Competencies in Practice (CiP)' is being developed with the aim of simplifying workplace-based assessments. It is currently under review as part of a pilot study prior to further implementation.
Non-Resident On calls and Hospital at night
We are aware that medical oncology trainees are being approached to participate in the 'Hospital at Night'/Ward cover as part of re-organisations of general medical rotas. Local Training Programme Director support is key to opposing any changes to rotas. The ACP has generated a letter addressed to trusts for anyone who needs help to oppose any changes. Please let us know if there are proposals to change medical oncology rotas to include general medicine.
Curriculum Updates:
Chemotherapy competencies will soon be included in e-portfolio.
Some parts of the medical oncology curriculum are being redesigned/updated with a sharper focus on acute oncology, onco-geriatrics and onco-genomics.
New Trainees Committee - Call for new representatives
We are establishing a trainees committee in order to be increasingly influential, enable us to complete more projects and to help raise the profile of the association and profession. The trainees committee will have regional representation with designated roles (below). These include engagement with undergraduates/CMTs/FYs, website development and content and providing trainee input to strategic goals of the association.
We will be looking for regional representation and roles will be delegated once the committee is established. If you would like to become a representative please contact one of the current representatives/Alison Norton.
Committee Roles:
Chair
Secretary
Website Officer
Workforce Officer
SAC Representative
BMA Junior Doctors Representative
Undergraduate and Junior Doctor Officer
Education Officer (and also a second SAC representative who is elected by committee)
Regional Representation:
London & South East x 2
South & South East
North East & West
Midlands & Wales
Scotland & Northern Ireland
Award winning book "Problem Solving in Older Cancer Patients" based on the 2015 ACP study day is now available for purchase from Clinical Publishing - discounted rate for ACP members.
The Late Medical Effects of Cancer Treatment - Royal College of Physicians Conference - 11th November 2016 - London - The RCP is hosting a conference on the Late Medical Effects of Cancer Treatment. It is an event proposed by the ACP and organised by the RCP. Further details here.
Dates For Your Diary
| | |
| --- | --- |
| NCRI Conference | 6-9th November 2016, Liverpool |
| Association of Cancer Physicians Annual General Meeting | 7th November 2016, Liverpool |
| Royal College of Physicians 'Late Medical Effects of Cancer Treatment'- A joint ACP/RCR/Endocrine organised conference | 11th November 2016 |
CONTACT US
If you have any comments, queries, concerns, questions or indeed information you want to share with other trainees, please don't hesitate to get in touch. Please email Alison Norton.
Choose Wisely ... Choose Medical Oncology
Friday 30th September 2016
Are you interested in Medical Oncology as a future career … Find out more below – with links to online resources.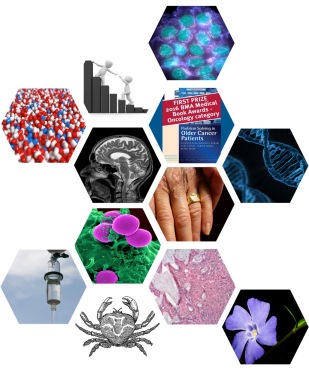 Medical oncologists are responsible for overseeing the treatment of patients with cancer. This involves discussing therapeutic options, supervising systemic treatments and supporting patients through their care. Patients are living longer with more complex treatments and therefore the specialty is one of the fastest growing. Most consultants will specialise in one to three tumour types, and acute oncology allows specialist input and advice to acutely unwell patients.
Medical oncologists are involved in the care of patients with cancer from first diagnosis through treatment to survivorship or transition to palliative care. It is therefore an extremely rewarding speciality where continuity of care means that medical oncologists are able to establish excellent relationships with their patients, often over many years.
Improving the survival of patients with cancer is a key role for medical oncologists and therefore patients will be on novel treatments and clinical trials. This makes clinical research an important feature and a significant proportion of trainees therefore undertake higher degrees. This can take many forms – including lab, translational or clinical trial-based research. As a result oncology is a dynamic and challenging speciality, which brings with it much variety.
Training in medical oncology involves rotating through and learning about the management of all the major types of cancer. This includes becoming competent in the supervision of systemic treatments, which incorporates chemotherapy, endocrine therapy and newer biological agents (such as antibodies and immunotherapy). Furthermore, with the multi-disciplinary approach of cancer care trainees learn the complex care pathways and multi-modality nature of treatments.
If you are interested in finding out more information - check out the links below:
Interview with oncology trainee Dr Adam Januszewski and Consultant Dr Alison Jones – RCP website.
A 'Typical Day in the Life of and Oncology Trainee' with Dr Sarah Payne (Link pending)
Training pathway for Medical Oncology can be found at the JRCPTB website.
Recruitment and working in the specialty - JRCPTB
There is also further information on Health Education England's website.
The Late Medical Effects of Cancer Treatments - RCP Conference - 11th November 2016
Thursday 22nd September 2016 - AJ
Recent data from Cancer Research UK suggest that of those patients diagnosed in 2010/11 over 50% will become long-term survivors. Even those patients not cured now experience increasing survival with advanced cancer. With an ageing population there will be increased numbers of cancer survivors in the UK, 2 million in 2010 rising to 4 million by 2030. There are increasing numbers of very long term survivors of cancer. Moreover, the needs of these cancer survivors are further complicated by the age-associated increase in co morbidity" (ACP Strategy for Improving Services and Outcomes for Cancer Patients, 2015).
Cancer survivorship is a strategic focus for the ACP and the Royal College of Physicians is hosting a 1-day conference that will focus on the 'medical' late effects of cancer treatments.
This conference was nominated by the ACP/Joint Specialty Committee and will provide a forum to discuss best practice between medical oncologists and our physicianly colleagues and therefore we support what promises to be an excellent conference
Programme highlights
scale and nature, and the patient's perspective of the problem
the systemic effects of cancer treatment – endocrine, respiratory, cardiac and exercise
bone metabolism
research in late effects
cancer as a chronic disease
how to do late effects of cancer treatment care well.
Visit here for more details.
Fellowship Opportunities in Sheffield/Newcastle and CRUK clinical trial fellowships
Thursday 22nd September 2016 AJ
Clinical Research Fellowship – Sheffield
This is a fully funded PhD Clinical Research Fellowship to start in Sheffield as soon as possible, which would be suitable for medical (or clinical) oncologists or for other trainees who have already obtained MRCP and are interested in a career in oncology. The project involves the opportunity to run a clinical trial in breast cancer which already has Ethics approval in place as well as obtaining high quality lab experience.
ACP Cancer Physicians in Training Weekend - 15th & 16th October 2016
Monday 12th September 2016 AJ
We are delighted to announce the programme for the ACP Cancer Physicians in Training Weekend 2016 - which promises to be bigger and better than ever before?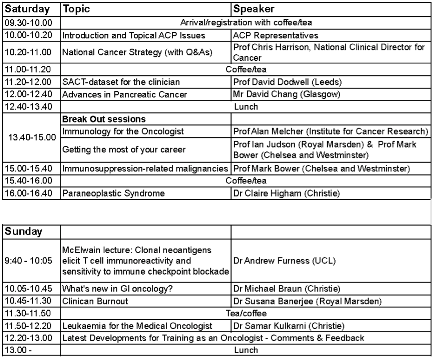 This year we have an excellent programme of speakers (including the National Clinical Director for Cancer, Professor Chris Harrison) covering a wide variety of topics - from basic science to career advice.
It is noramlly attended by over 100 trainees from across the country and it is an excellent opportunity for trainees of all levels to learn, network and have a good time!
There are still some places left so reserve yours now. (For ACP Trainee Members only - Please email Alison Norton to apply for membership, and you can simultaneously reserve your place)
We look forward to seeing everyone there.
Adam, Mark and Sam (ACP Trainee Representatives)
Trainees Newsletter - February 2016
Monday 12th September 2016 AJ
Junior Doctors Contract:
Although not specifically an oncology issue it will clearly affect each and every one of us. The executive have been extremely supportive of its trainees, publishing a statement highlighting the detrimental impact the proposed contract would have on oncology and was signed by over 150 oncology consultants. Thank you to everyone who completed the survey related to the contract – there were 139 responses and the results are here.
The statement together with the results to the survey received widespread media publicity – both in paper and online press (The Guardian, The Mirror, The Metro)
Call for New Trainee Representative:
Hannah Taylor has been an ACP Trainee rep (for England and Wales) for the last 3 years and we would like to thank her for all her hard work and time she has spent with the committee, organising the surveys and trainee weekends. As her term has come to an end we are now looking for a new representative from England (excluding North West and North East) and Wales. Please contact Alison if you would like to stand.